EP027: Hurricane Matthew Special














Show Notes:
Hurricane Matthew
New Studio Desk from Graham Studios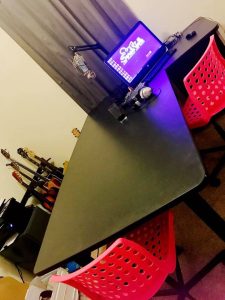 California Governor Jerry Brown Signed Bill to Make Single-User Restrooms Gender Neutral
British Man May Be First Cured of HIV
IRS Changes Graham Organization From "Non-Profit" to "Association of Churches"
New Study Shows Americans Are All Over the Map About God, Heaven and Hell
Leaked Videos of Mormon Leadership
VP Debate, Caine and Pence Discuss Personal Religious Belief vs Public Service
Connect with us!  Comment on the website, Facebook or Twitter, or call 224-40-SARAH (224-407-2724).
Get the show 1 day before the world!  Contribute to the show at Patreon, for as little as $1 per episode, you'll get the show before it goes live to the public as well as special Patron-only content!
Want to support us without committing to a recurring charge?  You can now make a one-time contribution via PayPal.

Sarah is a transgender woman (MTF) living in central Florida. She started SarahTalk to create a space to discuss LGBT stories, news, etc. which has grown to include the atheist/freethinker community as well.

Latest posts by Sarah Austin (see all)