EP050: You're in the Wrong Bathroom!














Laura A. Jacobs, co-author of "You're in the Wrong Bathroom!: and 20 Other Myths and Misconceptions about Transgender and Gender Non-conforming People" joins us to talk about her upcoming book and social issues around transgender people in private spaces.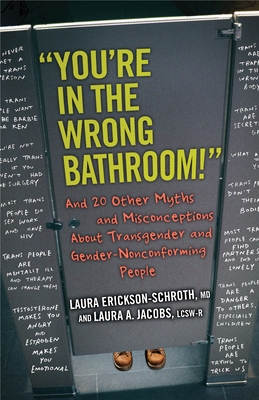 Purchase This Book from Independent Bookstores and Support SarahTalk
Laura A. Jacobs: Author Website
Then, Sarah & Becca rip through some news commentary.
Gavin Grimm 4th Circuit Court of Appeals Order
Justice Neil Gorsuch Supreme Court Impacts
Sesame Street at White House Easter Egg Roll (after put on the budget chopping block)
This episode we tried something a little different. Patrons get a much longer "Extended Version" of Episode 50. We limited the "public/free" version to 1 hr and everything beyond the hour goes to the Patrons.  Click the link below to become a Patron and access the Extended Episode Today!
Here's the topics you're missing (aroud 45 minute of BONUS CONTENT)!
PATRON EXCLUSIVE PORTION OF THE EPISODE:
Email from Donald Trump Raffling an Item He Has Worn
Pakistan Student Killed for Alleged Blasphemy
Kentucky Legislature Approves Dating All Documents "in the Year of Our Lord" (REALLY?!)
Alabama Senate Votes to Allow Church to Form its own Police Dept.
Detroit-Area Doctor Charged with Performing Female Genital Mutilation
Eritrean Asylum Seeker in Israel Charge with Child Abuse for Circumcising 4-Year-Old Son
Missouri Woman Exhiled from Town from "Calling Police Too Often" on Abusive Ex
Texas House Considers "SB6 Light", Eerily Similar to "NC HB2 Light"
NC House Bill 780 Tried to Override Supreme Court Marriage Equality Ruling
Pastor Who Cheered Pulse Nightclub Shooting Found Guilty of Child Molestation
Pat Robertson Thinks Boys are Being Effiminized and Made Wimps
Another "A Florida Man…" Story
Get the show 1 day before the world! Contribute to the show at Patreon, for as little as $1 per episode, you'll get the show before it goes live to the public as well as special Patron-only content – Extended episodes, outtakes, even full complete episodes – for PATRONS ONLY! 😉
Want to support us without committing to a recurring charge?  You can now make a one-time contribution via PayPal.

Sarah is a transgender woman (MTF) living in central Florida. She started SarahTalk to create a space to discuss LGBT stories, news, etc. which has grown to include the atheist/freethinker community as well.

Latest posts by Sarah Austin (see all)