You've heard of Flat Stanley?  Now there's Flat Jesus!  I pass one of those giant crosses on my way home from work every day.  You know, the ones you just can't help but see.  Huge.  Recently I started thinking:  I wonder where I would have to stand, and where I would have to position the camera, in order to take a photo that makes it look like *I* am hanging on that cross… Hmm.
Upon deciding that idea would require me to stand in the way of fast traffic on a busy highway, I decided instead to make a "Flat Jesus" to take photos of in precarious situations.  Now, I'm pleased to announce that Flat Jesus has come to SarahTalk!  Here's how you play:
Select your favorite Flat Jesus, Download and Print
Cut out around Flat Jesus
Optional: Color your picture (some are pre-colored)
Take pictures of your Flat Jesus anywhere you think will be fun

Keep it clean.  Nobody wants to see your penis, Tom.

Send your picture(s) to us!
That's it.  Super easy, super fun.  Every once in a while we will pick a Flat Jesus picture as a "winner" to reward with something fun (so make sure to include some sort of contact info).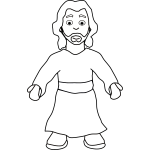 This Flat Jesus lets you customize all the colors.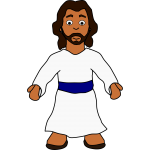 Jesus, contrary to popular American opinion, wasn't a basic white dude.  Though, keep scrolling, we have an option for that, too!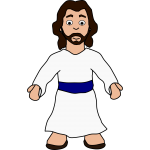 Ah, that's better, eh?  Here's a guy we'd let on a plane FO' SHO'.
Just for fun, and to make it harder to cut out, here's White Republican Jesus!  He comes with ALL the accessories:  USA T-Shirt, Assault rifle, American Flag, and Eagle.  God. Bless. Fucking. America.